Walker, Texas Ranger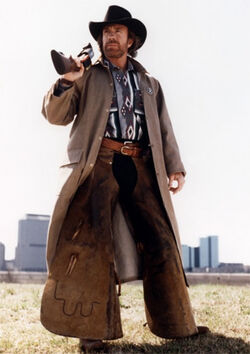 Star(s)
Chuck Norris, Clarence Gilyard, Sheree J Wilson, Noble Willingham, Nia Peeples
Creator(s)
Christopher Canaan, Albert S Ruddy, Leslie Greif, Paul Haggis
Genre(s)
Action, cop show
Walker, Texas Ranger was an American action/cop show created by Christopher Canaan, Albert S Ruddy, Leslie Greif and Paul Haggis for CBS. It ran for eight seasons and a TV movie, Walker, Texas Ranger: Trial by Fire.
Series summary
Edit
Sgt Cordell Walker (Chuck Norris) is a Texas ranger and martial artist who tries to keep the old West code alive in the modern day. Along with his colleagues - including best friend Sgt Jimmy Trivette (Clarence Gilyard), DA and love interest Alexandra Cahill (Sheree J Wilson) - Walker tackles criminals with two fists and a fearsome roundhouse kick.
Westphall connections to Walker, Texas Ranger
Edit
Martial Law crossed over with Walker, Texas Ranger in a storyline that began in Martial Law's "Honor Among Strangers" and concluded in Walker's "Day of Cleansing".
Sons of Thunder was a short-lived spin-off following two friends of Walker's.
Ad blocker interference detected!
Wikia is a free-to-use site that makes money from advertising. We have a modified experience for viewers using ad blockers

Wikia is not accessible if you've made further modifications. Remove the custom ad blocker rule(s) and the page will load as expected.