W*A*L*T*E*R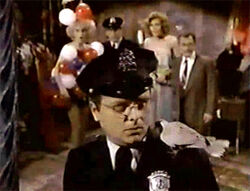 Star(s)
Gary Burghoff, Ray Buktenica, Victoria Jackson, Noble Willingham
W*A*L*T*E*R was an American sitcom created by Bill Bixby for CBS. Only one episode was filmed and broadcast.
Series summary
Edit
After getting out of the Korean war, Walter "Radar" O'Reilly (Gary Burghoff) gets a job as a police officer.
Parent show
Edit
Radar was originally a regular character in M*A*S*H.
Ad blocker interference detected!
Wikia is a free-to-use site that makes money from advertising. We have a modified experience for viewers using ad blockers

Wikia is not accessible if you've made further modifications. Remove the custom ad blocker rule(s) and the page will load as expected.