Veronica Mars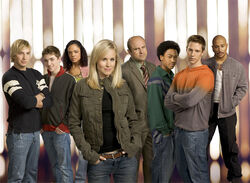 Star(s)
Kristen Bell, Percy Daggs III, Teddy Dunn, Jason Dohring, Sydney Tamiia Poitier
Original channel
UPN (2004-2006), The CW (2006-2007)
Genre(s)
Mystery, crime, drama
Veronica Mars was an American mystery and crime series created by Rob Thomas for UPN, though it later ran on The CW. It lasted three seasons.
Series summary
Edit
Veronica Mars (Kristen Bell) lived a normal life until her best friend, Lily Kane, was murdered; her father, the county sheriff, blamed Lily's rich and powerful father, Jake (Kyle Secor). When Jake walked free, Veronica's father lost his job. Now she helps him run a PI agency, solving cases week to week while tracking down her friend's true killer. The second season sees Veronica investigating a bus crash with multiple fatalities that was apparently intended for her; and the third season focuses on her hunt for a serial rapist.
Westphall connections in Veronica Mars
Edit
In "Donut Run", Veronica's fortune cookie message has the numbers that won Hurley the lottery (and turned up in several other strange places) in Lost.
Prop and branding links
Edit
"Rat Saw God" features the fictional car rental company Lariat, which was the one used by Mulder and Scully in The X-Files.
Ad blocker interference detected!
Wikia is a free-to-use site that makes money from advertising. We have a modified experience for viewers using ad blockers

Wikia is not accessible if you've made further modifications. Remove the custom ad blocker rule(s) and the page will load as expected.