Twin Peaks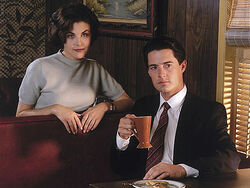 Star(s)
Kyle MacLachlan, Sherilyn Fenn, Lara Flynn Boyle, Ray Wise, Michael Ontkean
Creator(s)
David Lynch, Mark Frost
Years on air
1990-1991 2017-present
Twin Peaks was an American horror and crime series created by David Lynch and Mark Frost for ABC. It ran for three seasons and spawned a spin-off feature film, Fire Walk With Me.
Series summary
Edit
When high school sweetheart Laura Palmer (Sheryl Lee) is found murdered outside the town of Twin Peaks, zen FBI agent Dale Cooper (Kyle MacLachlan) is sent to investigate. He soon discovers that the town harbours an eerie dark side, represented by a mysterious dwarf (Michael J Anderson) and a malevolent figure named BOB (Frank Silva). As the town reels from Laura's murder and suspects pile up, Cooper's search for the truth pits him against enemies earthly and supernatural.
Westphall connections to Twin Peaks
Edit
Twin Peaks' Dr. Jacoby is featured in "General Hospital" episode #9599 and (according to imdb) episode #9957. There is a blooper reel featuring Dr.Jacoby available online.
In "The Firefly", an episode of Fringe, scientist Walter Bishop puts on a pair of glasses that have red and blue lenses, explaining that they allow him to see people's auras. He adds that the glasses were made by his friend, Dr Jacoby. Dr Jacoby was a character in Twin Peaks who was frequently seen wearing the same kind of glasses.
Prop and branding links
Edit
Ad blocker interference detected!
Wikia is a free-to-use site that makes money from advertising. We have a modified experience for viewers using ad blockers

Wikia is not accessible if you've made further modifications. Remove the custom ad blocker rule(s) and the page will load as expected.