Torchwood: Children of Earth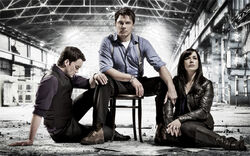 Star(s)
John Barrowman, Eve Myles, Gareth David-Lloyd, Peter Capaldi, Kai Owen
Creator(s)
Russell T Davies
Genre(s)
Action, drama, science fiction, thriller
Torchwood: Children of Earth is a five-episode UK science fiction miniseries that continued the stories of the characters from Torchwood. It was created for BBC One by Russell T Davies.
Series summary
Edit
The Welsh branch of Torchwood, a secret operation that protects Britain from alien incursions, is still dealing with the loss of two of its members when every child around the world becomes possessed by an eerie voice that proclaims, 'We are coming.' The British government, knowing that the event is somehow linked to the long and mysterious past of Torchwood's immortal Jack Harkness (John Barrowman), send a team in to capture him and kill the other two members, Gwen Cooper (Eve Myles) and Ianto Jones (Gareth David-Lloyd). They fail, and soon the Torchwood team are on the run, trying to work out why the government are after them and what it has to do with the strange alien menace. Meanwhile, a put-upon member of Parliament, John Frobisher (Peter Capaldi), finds himself having to make some very tough decisions indeed.
Westphall connections in Children of Earth
Edit
Westphall connections to Children of Earth
Edit
Parent show
Edit
Ad blocker interference detected!
Wikia is a free-to-use site that makes money from advertising. We have a modified experience for viewers using ad blockers

Wikia is not accessible if you've made further modifications. Remove the custom ad blocker rule(s) and the page will load as expected.