The X-Files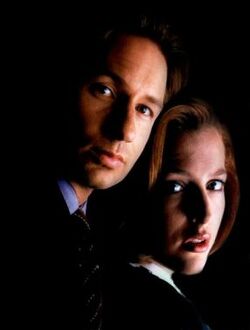 Star(s)
David Duchovny, Gillian Anderson, Robert Patrick, Annabeth Gish, Mitch Pilleggi
Genre(s)
Science fiction, fantasy, horror, thriller, mystery, comedy-drama
The X-Files was an American science fiction, horror and thriller series created by Chris Carter for Fox television. It ran for nine seasons and spawned one spin-off - The Lone Gunmen - and two feature films.
Series summary
Edit
FBI special agent Dana Scully (Gillian Anderson) is assigned to the agency's X-Files division, which investigates cases that cannot be explained by conventional means. She is paired up with Fox 'Spooky' Mulder (David Duchovny), a brilliant criminal profiler who has been obsessed with the supernatural ever since his sister was abducted, apparently by aliens, as a child. Scully's brand of no-nonsense scepticism and Mulder's fervent belief in things beyond the rational collide as their investigations take in aliens, ghosts, vampires, government conspiracies and other extreme phenomena.
Eventually Mulder and Scully were replaced by other agents: sceptic John Doggett (Robert Patrick) and believer Monica Reyes (Annabeth Gish).
Westphall connections in The X-Files
Edit
In the episode "Unusual Suspects", Fox Mulder finds himself interrogated by Detective John Munch (Richard Belzer) of the Baltimore police department; Munch was a character in Homicide: Life on the Street and, later, Law & Order: Special Victims Unit.
The episode "Millennium", Mulder and Scully meet up with an ex-FBI agent named Frank Black (Lance Henriksen). Black was the protagonist of the TV series Millennium, which was also created by Chris Carter and ran for three years.
Westphall connections to The X-Files
Edit
The Lone Gunmen, three conspiracy freaks who run a newspaper and sometimes supply Mulder with information, proved popular enough to earn their own spin-off series. The Lone Gunmen was a much broader, more comical series than The X-Files and ran for just one season.
Prop and branding links
Edit
The Veronica Mars episode "Rat Saw God" features the fictional car rental company Lariat, which was the one used by Mulder and Scully. Lariat also appears on Breaking Bad and Supernatural.
Morley cigarettes, smoked by the villainous Cancer Man in The X-Files, are also smoked by characters in several other shows: Spike from Buffy the Vampire Slayer, Lois in Malcolm in the Middle, Lt Matt Cavanaugh in Killer Instinct, Warwick Brown in CSI: Crime Scene Investigation, and characters in Jake 2.0, Criminal Minds, Huff and Special Unit 2.
In "Milagro", a scene in a graveyard features a grave with 'SALINGER' written on it - this is the same gravestone used in Party of Five.
Non-Westphall connections
Edit
The X-Files episode "X-Cops" is shot in a faux-documentary style as Mulder and Scully are filmed by the crew of real-life documentary show COPS. However, factual shows are not included in the Westphall multiverse.
Although "The Springfield Files" episode of The Simpsons stars David Duchovny and Gillian Anderson as Mulder and Scully investigating an alien sighting in Springfield, animated shows are not included in the Westphall multiverse.
es, The]]
Ad blocker interference detected!
Wikia is a free-to-use site that makes money from advertising. We have a modified experience for viewers using ad blockers

Wikia is not accessible if you've made further modifications. Remove the custom ad blocker rule(s) and the page will load as expected.