The War at Home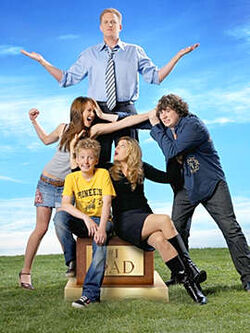 Star(s)
Michael Rapaport, Anita Barone, Kyle Sullivan, Kaylee DeFer, Dean Collins
Creator(s)
Rob Lotterstein
The War at Home was an American sitcom created by Rob Lotterstein for Fox television. It ran for two seasons.
Series summary
Edit
Insensitive, cynical insurance salesman Dave Gold (Michael Rapaport) must deal with his dysfunctional family - while they do their best to deal with him. His wife, Vicky (Anita Barone) can be as obnoxious as him; his daughter Hillary (Kaylee DeFer) is constantly misbehaving; his eldest son, Larry (Kyle Sullivan), is emotional and flamboyant; and his youngest, Mike (Dean Collins) is going through the turmoil of puberty. Their chaotic lives are frequently punctuated by Dave's exasperated monologues, made to the audience at home.
Prop and branding links
Edit
Ad blocker interference detected!
Wikia is a free-to-use site that makes money from advertising. We have a modified experience for viewers using ad blockers

Wikia is not accessible if you've made further modifications. Remove the custom ad blocker rule(s) and the page will load as expected.