The Sarah Jane Adventures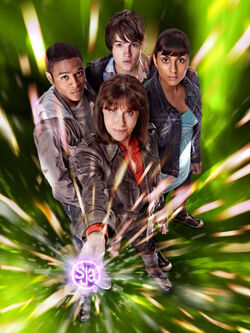 Star(s)
Elisabeth Sladen, Tommy Knight, Anjli Mohindra, Daniel Anthony, Yasmin Paige
Creator(s)
Russell T Davies
Genre(s)
Science fiction, children
The Sarah Jane Adventures was a children's science fiction series that was created for the BBC's children's channel, CBBC, by Russell T Davies. It ran for five seasons.
Series summary
Edit
Sarah Jane Smith (Elisabeth Sladen), a former investigative reporter, investigates the strange with the help of her supercomputer, Mr Smith (Alexander Armstrong) and, on occasion, her robot dog, K-9 (John Leeson). After adopting Luke Smith (Tommy Knight), a cloned boy with a genius IQ, she also finds herself joined by his friends, Maria Jackson (Yasmin Paige), Clyde Langer (Daniel Anthony) and, later, Rani Chandra (Anjli Mohindra).
Together, Sarah Jane and her team tackle all manner of alien invasions, strange plots and threats to Earth.
Westphall connections in The Sarah Jane Adventures
Edit
Westphall connections to The Sarah Jane Adventures
Edit
Parent show
Edit
Ad blocker interference detected!
Wikia is a free-to-use site that makes money from advertising. We have a modified experience for viewers using ad blockers

Wikia is not accessible if you've made further modifications. Remove the custom ad blocker rule(s) and the page will load as expected.