The Finder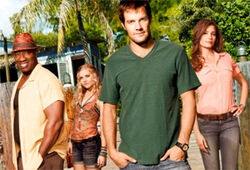 Star(s)
Geoff Stutts, Michael Clarke Duncan, Mercedes Mahsohn, Maddie Hasson
The Finder is an American drama series created by Hart Hanson for Fox as spin-off of Bones. It was cancelled during its first season.
Series summary
Edit
Walter Sherman (Geoff Stults) is a detective with a difference - he can find absolutely anything he puts his mind to - but whose brain damage (sustained during his time as a soldier) makes him paranoid and prone to asking very blunt questions. He is joined by his colleague and lawyer, Leo Knox (Michael Clark Duncan); reformed second-generation criminal Willa Monday (Maddie Hasson) and deputy US Marshal Isabel Zambada (Mercedes Mahsohn).
Parent show
Edit
The series was spun out of Bones, in the episode 'The Finder' from its sixth season. It featured guest appearances from Bones characters, most notably Dr Lance Sweets (John Francis Daly), a recurring, and later regular, character in Bones who appeared in 'Bullets', the second episode of The Finder.
Ad blocker interference detected!
Wikia is a free-to-use site that makes money from advertising. We have a modified experience for viewers using ad blockers

Wikia is not accessible if you've made further modifications. Remove the custom ad blocker rule(s) and the page will load as expected.