The Bob Newhart Show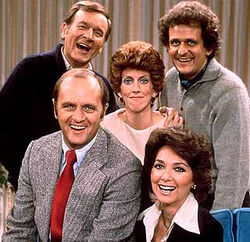 Star(s)
Bob Newhart, Suzanne Pleshette, Marcia Wallace, Peter Bonerz, Bill Daily
Creator(s)
David Davis, Lorenzo Music
The Bob Newhart Show was an American sitcom created by David Davis and Lorenzo Music for CBS. It ran for six seasons.
Series summary
Edit
Bob Newhart plays Dr Robert Hartley, a psychologist based in Chicago. Each episode is split between Hartley's hectic home life and the time he spends with his various patients, including mean-spirited and neurotic Elliot Carlin (Jack Riley), milquetoast Marine veteran Emil Peterson (John Fiedler) and shy, reserved Lillian Bakerman (Florida Friebus), an elderly lady who spent most of her sessions knitting.
Westphall connections to The Bob Newhart Show
Edit
Ad blocker interference detected!
Wikia is a free-to-use site that makes money from advertising. We have a modified experience for viewers using ad blockers

Wikia is not accessible if you've made further modifications. Remove the custom ad blocker rule(s) and the page will load as expected.