The Beat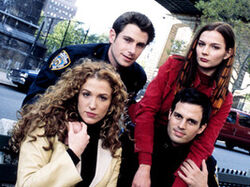 Star(s)
Derek Cecil, Mark Ruffalo, Poppy Montgomery, Tom Noonan, Lea DeLaria
Genre(s)
Police procedural
The Beat was an American police procedural series created for UPN. It ran for just one season, with only six episodes airing before cancellation.
Series summary
Edit
The series revolved around the day-to-day experiences of two uniformed New York patrolmen, Mike Dorrigan (Derek Cecil) and Zane Marinelli (Mark Ruffalo). It is one of many series that features a guest appearance by Richard Belzer as NYPD detective John Munch.
Westphall connections in The Beat
Edit
In "They Say it's Your Birthday", John Munch - then a regular character on Law & Order: Special Victims Unit - helps out Dorigan and Marinelli.
'Miss Sally's Schoolyard', a fictional show-within-a-show frequently seen on Oz, is seen on a TV in The Beat.
Ad blocker interference detected!
Wikia is a free-to-use site that makes money from advertising. We have a modified experience for viewers using ad blockers

Wikia is not accessible if you've made further modifications. Remove the custom ad blocker rule(s) and the page will load as expected.