Team Knight Rider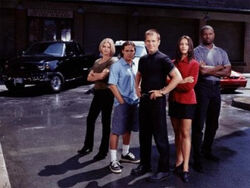 Star(s)
Brixton Karnes, Christine Steel, Duane Davis, Kathy Trageser, Nick Wechsler
Creator(s)
Rick Copp, David A Goodman, Glen A Larson
Genre(s)
Action, science fiction
Team Knight Rider was a US science-fiction show created by Rick Copp, David A Goodman and Glen A Larson for NBC as a follow-up to Knight Rider (1982). It ran for one season.
Series summary
Edit
Over ten years after Michael Knight and his intelligent car, KITT, fought criminals 'above the law', the Foundation for Law and Government (FLAG) continues to tackle evildoers. But now rather than one man, it operates using a team of five drivers, each with their own intelligent, talking vehicle.
Westphall connections in Team Knight Rider
Edit
In the Star Trek episode "The Changeling", Kirk and the crew have to deal with Nomad, a space probe from the 21st century created by artificial intelligence pioneer Dr Jackson Roykirk. Dr Roykirk subsequently appeared as a character in the Team Knight Rider episode "Apocalypse Maybe".
Parent show
Edit
Team Knight Rider was created as a continuation of Knight Rider (1982); in the final episode, Michael Knight, the protagonist from the original series, appears, viewed from behind..
Ad blocker interference detected!
Wikia is a free-to-use site that makes money from advertising. We have a modified experience for viewers using ad blockers

Wikia is not accessible if you've made further modifications. Remove the custom ad blocker rule(s) and the page will load as expected.