Tattingers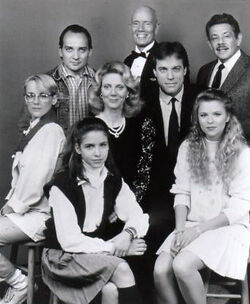 Star(s)
Stephen Collins, Blythe Danner
Tattingers was an American comedy-drama series for NBC. It ran for one season.
Series summary
Edit
This comedy-drama series revolved around Nick and Hillary Tattinger (Stephen Collins and Blythe Danner), owners of Tattingers, a posh restaurant in Manhattan. Although divorced, the couple continue to run the restaurant and serve its many famous customers.
Westphall connections in Tattingers
Edit
After Dr Elliot Axelrod (Stephen Furst) died in Boston-based medical drama St Elsewhere, another Axelrod (Wayne Knight) turned up in Tattingers complaining about how his cousin had died over in Boston.
Tattingers was reworked after one year into the more broadly comic Nick & Hillary.