Star Trek: Enterprise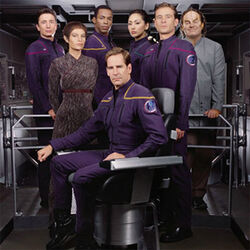 Star(s)
Scott Bakula, John Billingsley, Joelene Blalock, Dominic Keating, Anthony Montgomery
Creator(s)
Rick Berman, Brannon Braga
Genre(s)
Action, drama, science fiction
Star Trek: Enterprise was a US science-fiction show created by Rick Berman and Brannon Braga for CBS. It did not directly spin out of any previous Star Trek show, but was set in the same universe and continuity.
Series summary
Edit
Set decades before the original Star Trek series, Enterprise sees Captain Jonathan Archer (Scott Bakula) running the first Warp Five starship; he is joined by a Vulcan, T'Pol (Joelene Blalock), whose job is to ensure that the humans don't cause too much trouble; chief engineer Trip (Connor Trineer) and an alien medical officer, Dr Phlox (John Billingsley), among others.
Westphall connections in Star Trek: Enterprise
Edit
Ad blocker interference detected!
Wikia is a free-to-use site that makes money from advertising. We have a modified experience for viewers using ad blockers

Wikia is not accessible if you've made further modifications. Remove the custom ad blocker rule(s) and the page will load as expected.