Quatermass and the Pit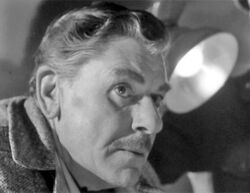 Star(s)
André Morell, Cec Linder, Anthony Bushell, John Stratton, Christine Finn
Genre(s)
Science fiction, horror
Quatermass and the Pit was a UK science fiction/horror miniseries created by Nigel Kneale for the BBC. It followed The Quatermass Experiment and Quatermass II.
Series summary
Edit
Having been ousted from his position at British Experimental Rocket Group, Professor Bernard Quatermass (André Morell) finds himself called in to consult on an unusual archaeological dig that has unearthed a deformed, pre-human skeleton under London, along with an inexplicable, indestructible capsule that may be five million years old. Soon, the crew finds itself plagued by ghosts and hallucinations.
Parent show
Edit
A fourth and final Quatermass story, titled simply Quatermass, screened in 1970.
Ad blocker interference detected!
Wikia is a free-to-use site that makes money from advertising. We have a modified experience for viewers using ad blockers

Wikia is not accessible if you've made further modifications. Remove the custom ad blocker rule(s) and the page will load as expected.