Quatermass II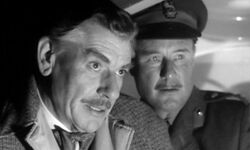 Star(s)
Jon Robinson, Monica Grey, Hugh Griffith
Genre(s)
Science fiction, horror
Quatermass II was a UK science fiction/horror miniseries created by Nigel Kneale for the BBC. It followed The Quatermass Experiment and was succeeded by Quatermass and the Pit.
Series summary
Edit
Professor Bernard Quatermass (Jon Robinson), is working on a new project for British Experimental Rocket Group, but his confidence has been shaken by the discovery that it caused a nuclear explosion at their Australian testing site. Looking to distract himself, he investigates a series of unusual meteor showers and discovers what may be an invasion attempt from another plane.
Parent show
Edit
Spin-offs
Edit
Ad blocker interference detected!
Wikia is a free-to-use site that makes money from advertising. We have a modified experience for viewers using ad blockers

Wikia is not accessible if you've made further modifications. Remove the custom ad blocker rule(s) and the page will load as expected.