Quatermass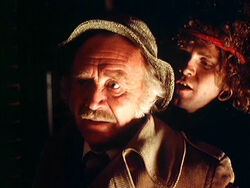 Star(s)
John Mills, Simon MacCorkindale, Barbara Kellerman, Brewster Mason, Margaret Tyzack
Genre(s)
Science fiction, thriller
Quatermass was a UK science fiction/horror miniseries created by Nigel Kneale, initially for the BBC and - after they halted the project - then ITV. It followed The Quatermass Experiment, Quatermass II and Quatermass and the Pit, and was the last original story to feature the character of Professor Bernard Quatermass.
Series summary
Edit
Now retired, Professor Bernard Quatermass (John Mills) leaves his countryside home and returns to London to look for his missing granddaughter. There, he finds the city crumbling and society falling apart; even mankind's continuing interest in the stars fails, as two spacecraft are destroyed by an unknown force. And when that force begins beaming up members of the Planet People, an alien-worshipping cult, Quatermass feels that he must intervene - a decision that may cost him his life, or something even more dear to him...
Parent show
Edit
Ad blocker interference detected!
Wikia is a free-to-use site that makes money from advertising. We have a modified experience for viewers using ad blockers

Wikia is not accessible if you've made further modifications. Remove the custom ad blocker rule(s) and the page will load as expected.