Picket Fences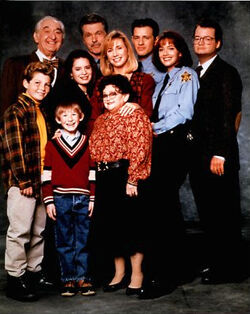 Star(s)
Tom Skerritt, Kathy Baker, Costas Mandylor, Lauren Holly, Holly Marie Combs
Creator(s)
David E Kelley
Genre(s)
Drama, comedy-drama, fantasy
Picket Fences was an American comedy-drama series with fantastic elements, created by David E Kelley for CBS. It ran for four seasons.
Series summary
Edit
Sheriff Jimmy Brock (Tom Skerritt) tries to keep law and order in the quirky town of Rome, Wisconsin, where small-town life is rocked by serial killers and human combustion, and cows can give birth to human babies. A counterbalance to the strangeness comes in the form of human drama, as the show explores all manner of issues, from transsexuality and medical ethics to polygamy and homophobia. Despite the occasionally weighty subject matter, the tone of the series was largely light, and much humour came from the large cast, including irritable judge Henry Bone (Ray Walston), bombastic lawyer Douglas Wambaugh (Fyvush Finkel) and bank-robbing mayor Laurie Bey (Marlee Matlin).
Westphall connections in Picket Fences
Edit
In the episode "Away in the Manger", strange things begin to happen to the cows of Rome; one of the characters comments on similarly odd things happening in nearby Delta Glen. Delta Glen was the town that Mulder and Scully investigated in the X-Files episode "Red Museum". Originally this was to have been a full-blown crossover until CBS (which aired Picket Fences) and Fox refused to agree to the event.
In the episode "Rebels With Causes", Douglas Wambaugh and Dr Jill Brock visit Chicago Hope hospital to treat Douglas's heart problems.
Westphall connections to Picket Fences
Edit
As a follow-up to "Rebels With Causes", screened one year after that episode, Chicago Hope's "Small Sacrifices" saw Douglas returning to the hospital for further treatment on his heart.
Ad blocker interference detected!
Wikia is a free-to-use site that makes money from advertising. We have a modified experience for viewers using ad blockers

Wikia is not accessible if you've made further modifications. Remove the custom ad blocker rule(s) and the page will load as expected.