Party of Five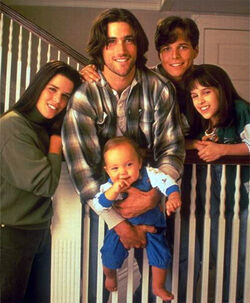 Star(s)
Neve Campbell, Scott Wolf, Matthew Fox, Jennifer Love Hewitt, Lacey Chabert
Creator(s)
Christopher Keyser, Amy Lippman
Party of Five was an American drama series created by Christopher Keyser and Amy Lippman for Fox television. It ran for six seasons and spawned one spin-off, Time of Your Life.
Series summary
Edit
Five San Franciscan siblings find themselves orphaned after their parents are hit and killed by a drunk-driver, and must pull together to a true family unit. Charlie Salinger (Matthew Fox) is the eldest, an immature 24-year-old manual labourer who struggles with the responsibility of being the new head of the family; 16-year-old Bailey (Scott Wolf) is the rebellious teen turned substance abuser; 15-year-old Julia (Neve Campbell) is a sensitive teen facing adolescent issues of her own; 11-year old Claudia (Lacey Chabert) is a precocious child prodigy, and Owen is the baby, barely one year old.
The siblings take over the running of their family's restaurant, with Charlie initially serving as manager, with Bailey later taking over. The struggles faced by the Salingers over the years included cancer, alcoholism, domestic violence, and the long term effects of parental loss.
As the series progressed, romantic relationships became plot points and new cast members joined the show, including Jennifer Love Hewitt as Bailey's girlfriend Sarah, Jeremy London as Julia's husband Griffin and Paula Devicq as Owen's nanny, Kirsten, who developed an on-again-off-again relationship with Charlie.
Jennifer Love Hewitt's character, Sarah Reeves Martin, was given her own spin-off, Time of Your Life, although it lasted just one season.
Prop and branding links
Edit
In "Milagro", an episode of The X-Files, a scene in a graveyard features a grave with 'SALINGER' written on it - this is the same gravestone used in Party of Five.
Ad blocker interference detected!
Wikia is a free-to-use site that makes money from advertising. We have a modified experience for viewers using ad blockers

Wikia is not accessible if you've made further modifications. Remove the custom ad blocker rule(s) and the page will load as expected.