Newhart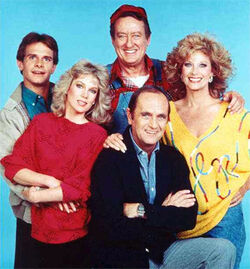 Star(s)
Bob Newhart, Mary Frann, Jennifer Holmes, Julia Duffy, Tom Poston
Newhart was an American sitcom created by Barry Kemp for CBS. It ran for eight seasons.
Series summary
Edit
Dick Loudon (Bob Newhart) and his wife Joanna leave New York City to run a guest-house in Vermont, finding themselves in the middle of a community of oddballs that drive Bob to distraction. In later seasons, Bob began hosting a talk show on the town's TV channel.
Westphall connections to The Bob Newhart Show
Edit
Bob Newhart's character in The Bob Newhart Show, Bob Hartley, wakes up in the final episode of the otherwise unconnected Newhart, revealing that entire show existed only as a dream.
Ad blocker interference detected!
Wikia is a free-to-use site that makes money from advertising. We have a modified experience for viewers using ad blockers

Wikia is not accessible if you've made further modifications. Remove the custom ad blocker rule(s) and the page will load as expected.