Murphy Brown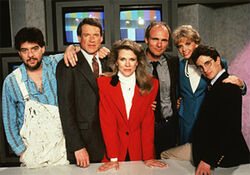 Star(s)
Candice Bergen, Faith Ford, Pat Corley, Grant Shaud, Joe Regalbuto
Murphy Brown was an American sitcom created by Diane English for CBS. It ran for 10 seasons.
Series summary
Edit
Murphy Brown (Candice Bergen), a recovering alcoholic, returns to her job at news magazine show FYI, where she is regarded as 'one of the boys' - two of those boys being stuffy anchor Jim Dial (Charles Kimbrough) and new producer Miles Silverberg (Grant Shaud). The other primary female character is perky former Miss America Corky Sherwood (Faith Ford), who filled in for the hard-hitting, sharp-tongued Murphy Brown while she was recovering from her addiciton.
The series followed the ups and downs of Murphy's life, including intra-office politics, the problems of celebrity, becoming a single mother and breast cancer.
Westphall connections in Murphy Brown
Edit
Corky Sherwood's agent was revealed to be The Famous Teddy Z's Al Floss.
The series Murphy Brown took part in a large crossover night with several other shows; in the Muprhy episode, she interviewed Liz Taylor, who complained that her jewels had gone missing. The woman who found (and was arrested for wearing) the jewels turned out to be Annie from Can't Hurry Love.
Westphall connections to Murphy Brown
Edit
Carol (Marcia Wallace), a character on The Bob Newhart Show, appeared as a secretary on Murphy Brown.
Murphy visited the characters of Ink.
Murphy's show, FYI, appeared in Love & War.
Ad blocker interference detected!
Wikia is a free-to-use site that makes money from advertising. We have a modified experience for viewers using ad blockers

Wikia is not accessible if you've made further modifications. Remove the custom ad blocker rule(s) and the page will load as expected.