Martial Law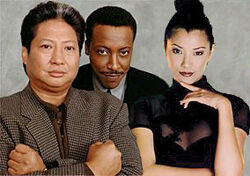 Star(s)
Sammo Hung, Arsenio Hall, Kelly Hu, Louis Mandylor, Tom Wright
Country of origin
Canada/US
Genre(s)
Action, drama, cop show
Martial Law was an American martial arts cop show created by Carlton Cuse for CBS. It ran for two seasons.
Series summary
Edit
Sammo Law (Sammo Hung) is a well-respected Chinese cop (and talented martial artist) who is transferred to the US (first to Los Angeles, then to New York). There, along with partner Terrell Parker (Arsenio Hall) he tackles the worst that crime has to offer while training undercover officer Grace "Pei Pei" Pen (Kelly Hu).
Westphall connections in Martial Law
Edit
Martial Law crossed over with Walker, Texas Ranger in a storyline that began in Martial Law's "Honor Among Strangers" and concluded in Walker's "Day of Cleansing".
Westphall connections to Martial Law
Edit
The Early Edition episode "Play it Again, Sammo" featured a guest appearance by Sammo Law.
Ad blocker interference detected!
Wikia is a free-to-use site that makes money from advertising. We have a modified experience for viewers using ad blockers

Wikia is not accessible if you've made further modifications. Remove the custom ad blocker rule(s) and the page will load as expected.