M*A*S*H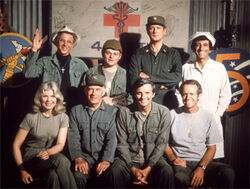 Star(s)
Alan Alda, Wayne Rogers, Mike Farrell, McLean Stevenson, Harry Morgan
Creator(s)
Larry Gelbart and Gene Reynolds (based on the film MASH and the novel MASH: A Novel About Three Army Doctors by Richard Hooker)
Genre(s)
Medical drama, comedy-drama, sitcom
M*A*S*H was an American medical drama and comedy-drama series created by Larry Gelbart and Gene Reynolds for NBC, and based on the film MASH. It ran for 11 seasons.
Series summary
Edit
M*A*S*H followed the darkly comic exploits of a group of medical doctors in the Korean war, trying to stay sane in insane circumstances. Characters included chief surgeon "Hawkeye" Pierce (Alan Alda), head nurse "Hot Lips" Houlihan (Loretta Swit), Corporal Klinger (Jamie Farr) and "Radar" O'Reilly (Gary Burghoff). It actually ran for longer than the original war.
Westphall connections to M*A*S*H
Edit
St Elsewhere's Dr Mark Craig claims to be an old associate of Doctor BJ Hunnicut, a character from M*A*S*H.
Spin-offs
Edit
Ad blocker interference detected!
Wikia is a free-to-use site that makes money from advertising. We have a modified experience for viewers using ad blockers

Wikia is not accessible if you've made further modifications. Remove the custom ad blocker rule(s) and the page will load as expected.