Law & Order: LA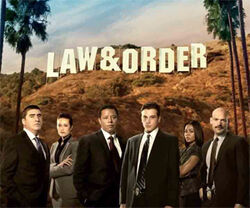 Star(s)
Skeet Ulrich, Corey Stoll, Rachel Ticotin, Regina Hall, Alfred Molina
Genre(s)
Legal drama, police procedural
Law & Order: LA was an American police procedural and legal drama series created by Dick Wolf for NBC. It was the first Law & Order series not to be set in New York, and was canceled after one season.
Series summary
Edit
After Law & Order was canceled, the format was moved to Los Angeles and given a new cast and relaunched as Law & Order: LA. Like the original series, it split its focus between the initial police investigation and the subsequent trial. Initially the focus was on detective Rex Winters (Skeet Ulrich), who was introduced in a Law & Order: Special Victims Unit episode. However, a mid-season overhaul saw his character being killed by a drug cartel. Other characters included deputy district attorney detective Ricardo Morales (Alfred Molina), detective Tomas 'TJ' Jaruszalski (Corey Stoll), and deputy district attorneys Alana de la Garza (Connie Rubirosa) and Joe Dekker (Terrence Howard).
Parent show
Edit
Ad blocker interference detected!
Wikia is a free-to-use site that makes money from advertising. We have a modified experience for viewers using ad blockers

Wikia is not accessible if you've made further modifications. Remove the custom ad blocker rule(s) and the page will load as expected.