Law & Order: Criminal Intent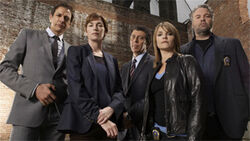 Star(s)
Kathryn Erbe, Jamey Sheridan, Courtney B Vance, Chris Noth, Jeff Goldblum
Original channel
NBC/USA Network
Genre(s)
Police procedural
Law & Order: Criminal Intent was an American police procedural series created by Dick Wolf for NBC, although the 2007-2011 seasons ran on USA Network. In total, it ran for 10 seasons.
Series summary
Edit
Like most other Law & Order shows, Criminal Intent follows the police as they solve crimes and subsequently build a case against the defendant. In Criminal Intent, however, more screen time is given to the criminals and victims, revealing their 'intent' in the time leading up to the crime. Additionally, most episodes end in a confession rather than a court case - breaking away from the 'half cops/half lawyers' format of the original Law & Order.
Westphall connections in Law & Order: Criminal Intent
Edit
The season seven episode "Contract" features a guest appearance by Mary Shannon (Mary McCormack) from In Plain Sight.
Parent show
Edit
Ad blocker interference detected!
Wikia is a free-to-use site that makes money from advertising. We have a modified experience for viewers using ad blockers

Wikia is not accessible if you've made further modifications. Remove the custom ad blocker rule(s) and the page will load as expected.