LA Law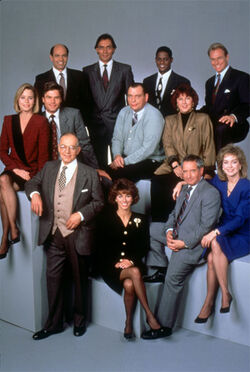 Star(s)
Harry Hamlin, Susan Dey, Corbin Bernsen, Jill Eikenberry, Alan Rachins, Michele Greene, Jimmy Smits, Michael Tucker, Susan Ruttan, Blair Underwood, Larry Drake, Richard Dysart
Creator(s)
Steven Boccho, Terry Louise Fisher
Genre(s)
Legal drama, comedy-drama
LA Law was an American legal drama series created by Steven Boccho and Terry Louise Fisher for NBC. It ran for eight seasons and one TV movie.
Series summary
Edit
LA Law was an enormously popular legal drama series that combined ripped-from-the-headlines stories (including one arc inspired by LA's 1992 'Rodney King riots'), character drama and a sometimes whimsical comedic bent. Characters included wildly promiscuous divorce lawyer Arnie Becker and new associate Victor Sifuentes (Jimmy Smits).
Westphall connections in LA Law
Edit
The characters of Denise Iannello (Debi Mazar) and Eli Levinson (Alan Rosenberg) were transplanted from the canceled Bochco legal series Civil Wars.
Westphall connections to LA Law
Edit
Victor Sifuentes (Jimmy Smits) and Abby Perkins (Michele Greene) appeared in an episode of Cop Rock.
Ad blocker interference detected!
Wikia is a free-to-use site that makes money from advertising. We have a modified experience for viewers using ad blockers

Wikia is not accessible if you've made further modifications. Remove the custom ad blocker rule(s) and the page will load as expected.