Julia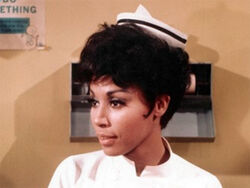 Star(s)
Diahann Carroll, Lloyd Nolan, Marc Copage, Michael Link, Betty Beaird
Julia was an American sitcom created by Hal Kanter for NBC. It ran for three seasons.
Series summary
Edit
Julia was a groundbreaking sitcom that became the first popular US TV show to star a black woman in a non-stereotypical role. Diahann Carroll played the titular Julia, a nurse and single mother whose husband had been killed in Vietnam. Her friends and colleagues included kindly Dr Morton Chegley (Lloyd Nolan), her son Corey (Marc Copage) and fellow nurse Hannah Yarby (Lurene Tuttle). The series was popular, but was met with mixed reactions from black commentators, who felt that it played it too safe and failed to represent the reality of life for black Americans in the '60s and '70s.
Westphall connections to Julia
Edit
Dr Morton Chegley (Lloyd Nolan) from Julia appeared in a first-season episode of St Elsewhere to teach the doctors at St Eligius Hospital.
Ad blocker interference detected!
Wikia is a free-to-use site that makes money from advertising. We have a modified experience for viewers using ad blockers

Wikia is not accessible if you've made further modifications. Remove the custom ad blocker rule(s) and the page will load as expected.