I Dream of Jeannie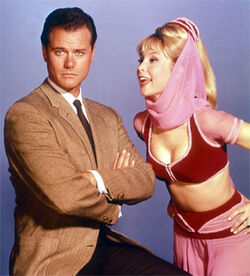 Star(s)
Barbara Eden, Larry Hagman, Bill Daily, Hayden Rorke, Emmaline Henry
Creator(s)
Sidney Sheldon
I Dream of Jeannie was an American sitcom created by Sidney Sheldon for CBS. It ran for five seasons and spawned two TV movies ('I Dream of Jeannie: 15 Years Later', 'I Still Dream of Jeannie') and an animated series.
Series summary
Edit
After crash-landing on a South Pacific island, astronaut Anthony Nielson (Larry Hagman) discovers a magic lamp containing Jeannie (Barbara Eden), a wish-granting genie, who is now his eternal servant. Back in the US, he finds his life complicated by the arrival of his new supernatural friend, especially when they begin to fall in love.
Westphall connections to The Bob Newhart Show
Edit
On the reunion special of The Bob Newhart Show, Howard Borden (Bill Daily) claimed to have had a dream in which he was astronaut Roger Healey, meaning that he actually dreamed the entirety of I Dream of Jeannie.
Non-Westphall connections
Edit
A cartoon spin-off, Jeannie, ran from 1973-1975 but as it was animated it doesn't count towards the final Westphall tally.
Ad blocker interference detected!
Wikia is a free-to-use site that makes money from advertising. We have a modified experience for viewers using ad blockers

Wikia is not accessible if you've made further modifications. Remove the custom ad blocker rule(s) and the page will load as expected.