Huff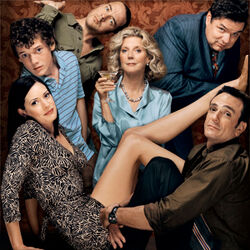 Star(s)
Hank Azaria, Paget Brewster, Anton Yelchin, Andy Corneau, Kimberly Brooks
Original channel
Showtime
Huff was an American comedy-drama created for Showtime by Bob Lowry. It ran for two seasons.
Series summary
Edit
Dr Craig 'Huff' Hufstodt is a Los Angeles psychiatrist who believes that he can and should save everyone around him, but when a 15-year-old patient commits suicide in his office, he finds his world shaken to its core. As he tries to deal with clinical insanity in his office, he also attempts to get a grip on the personal insanity of his home life, including his manipulative mother, Izzy (Blythe Danner); his institutionalised brother Teddy (Andy Corneau); and his morally dubious lawyer and best friend, Russell Tupper (Oliver Platt).
Prop and branding links
Edit
Ad blocker interference detected!
Wikia is a free-to-use site that makes money from advertising. We have a modified experience for viewers using ad blockers

Wikia is not accessible if you've made further modifications. Remove the custom ad blocker rule(s) and the page will load as expected.