Early Edition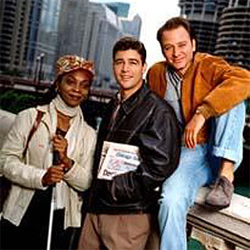 Star(s)
Kyle Chandler, Shanésia Davis-Williams, Fisher Stevens, Kristy Swanson, Billie Worley
Creator(s)
Ian Abrams, Patrick Q Page, Vik Rubenfeld
Early Edition was an American fantasy drama series created by Ian Abrams, Patrick Q Page and Vik Rubenfeld for CBS. It ran for four seasons.
Series summary
Edit
Gary Hobson has a strange life: every morning a cat somehow delivers him the following day's copy of The Chicago-Sun Times before it has been published. Gary uses this advanced knowledge to stop murders and crimes from even being committed. He is aided by his friends Marissa Clark (Shanésia Davis-Williams) and Chuck Fishman (Fisher Stevens), the latter of whom also tries to use the information contained in the paper for profit.
Westphall connections in Early Edition
Edit
In "Mum's the Word", one of the main characters falls ill - possibly due to a cursed Egyptian artefact - and is rushed to Chicago Hope for treatment.
"Play it Again, Sammo" featured Martial Law's Sammo Law (Sammo Hung).
Ad blocker interference detected!
Wikia is a free-to-use site that makes money from advertising. We have a modified experience for viewers using ad blockers

Wikia is not accessible if you've made further modifications. Remove the custom ad blocker rule(s) and the page will load as expected.