ER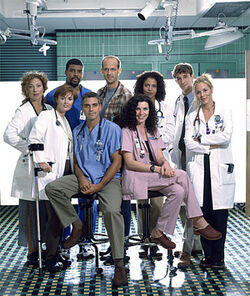 Star(s)
Anthony Edwards, George Clooney, Sherry Stringfield, Noah Wyle, Eriq La Salle
Creator(s)
Michael Crichton
ER was an American medical drama series created by Michael Crichton for NBC. It ran for 15 seasons.
Series summary
Edit
The series follows the lives, both personal and professional, of the doctors, surgeons and nurses of County General Medical Hospital in Chicago. It was particularly notable for launching the career of George Clooney, who played Dr Doug Ross. Ross's colleagues included Dr Mark Greene (Anthony Edwards), Dr Susan Lewis (Sherry Stringfield), trainee John Carter (Noah Wyle) and nurse Carol Hathaway (Juliana Margulies). Over the course of 15 years, the cast rotated and changed several times, but many members of the original crew returned for the show's final episodes.
Westphall connections in ER
Edit
Dr Susan Lewis went looking for her missing sister in New York in a two-part story that began in ER and continued in Third Watch.
Westphall connections to ER
Edit
In the Chicago Hope episode "Big Hand for the Little Lady", Dr Austin is accepted into the space program and told that an ER doctor from County Medical had also been accepted; in ER Dr Greene was accepted into the program but later turned it down.
Ad blocker interference detected!
Wikia is a free-to-use site that makes money from advertising. We have a modified experience for viewers using ad blockers

Wikia is not accessible if you've made further modifications. Remove the custom ad blocker rule(s) and the page will load as expected.