Deadline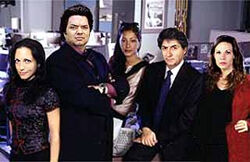 Star(s)
Oliver Platt, Hope Davis, Bebe Neuwirth, Lili Taylor, Damon Gupton
Deadline was an American drama series created by Dick Wolf for NBC. It ran for one season.
Series summary
Edit
Revolving around the cast of The New York Ledger, a paper frequently seen in Law & Order, Deadline's lead character was Wallace Benton (Oliver Platt), a brash journalist who gets into and out of scrapes constantly. He is joined by his colleagues and a selection of journalist students cherry-picked from college.
Parent show
Edit
The New York Ledger was a newspaper featured frequently in Law & Order.
Ad blocker interference detected!
Wikia is a free-to-use site that makes money from advertising. We have a modified experience for viewers using ad blockers

Wikia is not accessible if you've made further modifications. Remove the custom ad blocker rule(s) and the page will load as expected.