Conviction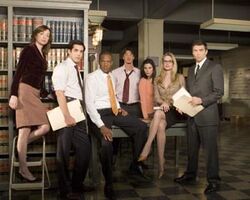 Star(s)
Stephanie March, Eric Balfour, Jordan Bridges, Milena Govich, Anson Mount
Conviction was an American legal drama series created by Dick Wolf for NBC. It ran for one season.
Series summary
Edit
After leaving the witness protection program, ADA Alexandra Cabot (Stephanie March) returns to New York City to oversee a group of young but talented assistant district attorneys, including party animal Brian Peluso (Eric Balfour), hard-working Billy Desmond (J August Richards), poor-girl-made-good Jessica Rossi (Milena Govich) and newbie Christina Finn (Julianne Nicholson).
Parent show
Edit
Alexandra Cabot was originally featured in Law & Order: Special Victims Unit from 2000-2003; she returned to that show after Conviction was cancelled. In a post-Conviction episode of SVU it was revealed that the man she testified against, drug lord Cesar Valez, was killed in prison and the assassin sent to get her was extradited to Ireland.
Ad blocker interference detected!
Wikia is a free-to-use site that makes money from advertising. We have a modified experience for viewers using ad blockers

Wikia is not accessible if you've made further modifications. Remove the custom ad blocker rule(s) and the page will load as expected.