Chicago Hope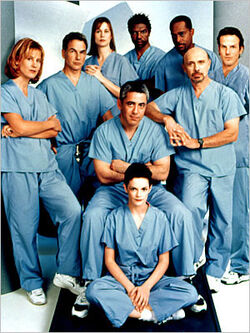 Star(s)
Mandy Patinkin, Héctor Elizondo, Vondie Curtis-Hall, Barbara Hershey, Christine Lahti
Creator(s)
David E Kelley
Chicago Hope was an American medical drama series created by David E Kelley for CBS. It ran for six seasons.
Series summary
Edit
The show stars Mandy Patinkin as Dr Jeffrey Geiger, a hot-shot surgeon with emotional issues stemming from the psychiatric condition of his wife (played by Kim Greist), who drowned their infant son. Adam Arkin plays Patinkin's colleague and best friend. Peter MacNicol and Hector Elizondo feature as the hospital's in-house attorney and director of medicine, respectively. Christine Lahti joined in the second season as a talented cardiac surgeon with a feminist chip on her shoulder, vying with Geiger for the chief of surgery position.
Westphall connections in Chicago Hope
Edit
Mandy Patinkin makes an uncredited cameo in a Homicide: Life on the Street episode playing his Chicago Hope character Dr Jeffrey Geiger, accepting a patient into his care. Though his character is never named, he is wearing his Chicago Hope uniform.
As a follow-up to a crossover in the show Picket Fences (see below), Chicago Hope's episode "Small Sacrifices" saw bombastic lawyer Douglas Wambaugh returning to the hospital as attorney for a former patient at the hospital.
In the episode "Big Hand for the Little Lady", Dr Austin is accepted into the space program and told that an ER doctor from County Medical had also been accepted; in ER Dr Greene was accepted into the program but later turned it down.
Westphall connections to Chicago Hope
Edit
The quirky crime/drama show Picket Fences had an episode, "Rebels With Causes", in which two of its characters - lawyer Douglas Wambaugh and Dr Jill Brock - visit Chicago Hope to help Douglas get treatment for his heart condition.
In the Early Edition episode "Mum's the Word", one of the main characters falls ill - possibly due to a cursed Egyptian artefact - and is rushed to Chicago Hope for treatment.
Ad blocker interference detected!
Wikia is a free-to-use site that makes money from advertising. We have a modified experience for viewers using ad blockers

Wikia is not accessible if you've made further modifications. Remove the custom ad blocker rule(s) and the page will load as expected.