Caprica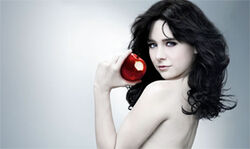 Star(s)
Eric Stoltz, Esai Morales, Paula Malcomson, Alessandra Torresani, Magda Apanowicz
Creator(s)
Remi Aubuchon, Ronald D Moore
Genre(s)
Action, drama, science fiction
Caprica was an American science fiction drama series created by Remi Aubuchon and Ronald D Moore for SyFy; it was a spin-off prequel of Battlestar Galactica.
Series summary
Edit
Some 58 years before the events seen in Battlestar Galactica, humanity is enjoying a golden age of luxury and success. But things will not run smoothly forever, because the species is on the brink of creating the Cylons, the very robots that would try to wipe them out altogether.
Parent show
Edit
Ad blocker interference detected!
Wikia is a free-to-use site that makes money from advertising. We have a modified experience for viewers using ad blockers

Wikia is not accessible if you've made further modifications. Remove the custom ad blocker rule(s) and the page will load as expected.