CSI: New York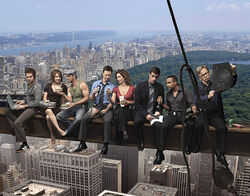 Star(s)
Gary Sinise, Sela Ward, Carmine Giovinazzo, Anna Belknap, Robert Joy
Creator(s)
Anthony E Zuiker, Carol Mendelsohn, Ann Donahue
Country of origin
US (all seasons)/Canada (seasons 1-3)
Genre(s)
Police procedural
Years on air
2004-present
CSI: Miami is an American police procedural series created by Anthony E Zuiker, Carol Mendelsohn and Ann Donahue for CBS, initially in partnership with the Canadian group Alliance Atlantis. It is a spin-off of CSI: Miami which was itself a spin-off of CSI: Crime Scene Investigation.
Series summary
Edit
A team of crime scene investigators get to the bottom of complex, strange and gruesome murder cases by using state-of-the-art forensic techniques. In New York.
Parent show
Edit
The series span out of CSI: Miami in a two-part story that began in CSI Miami's "MIA/NYC Nonstop" and concluded in New York's first episode.
Ad blocker interference detected!
Wikia is a free-to-use site that makes money from advertising. We have a modified experience for viewers using ad blockers

Wikia is not accessible if you've made further modifications. Remove the custom ad blocker rule(s) and the page will load as expected.