CSI: Crime Scene Investigation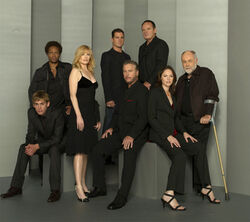 Star(s)
Laurence Fishburne, Marg Helgenberger, George Eads, Jorja Fox, Eric Szmanda
Creator(s)
Anthony E Zuiker
Genre(s)
Police procedural
Years on air
2000-present
CSI: Crime Scene Investigation is an American police procedural series created by Anthony E Zuiker for CBS. It is still running and has two spin-off series: CSI: Miami and CSI: New York.
Series summary
Edit
A team of crime scene investigators working for the Las Vegas Police Department get to the bottom of complex, strange and gruesome murder cases by using state-of-the-art forensic techniques.
Westphall connections in CSI
Edit
Westphall connections to CSI
Edit
The team in Bones (episode: "The Woman in the Sand") investigated a tip-off from a prostitute at the Tangiers Hotel - the same hotel used in the CSI episode "The Lost Girls".
In the episode "Two and a Half Deaths", the main trio from Two and a Half Men make appearances.
Spin-offs
Edit
The series ultimately spawned two other series: CSI: Miami was a direct spin-off (the CSI episode "Cross Jurisdictions" introduced the CSI: Miami cast, and began a storyline that was concluded in the first episode of CSI: Miami), while CSI: New York spun out of that.
Ad blocker interference detected!
Wikia is a free-to-use site that makes money from advertising. We have a modified experience for viewers using ad blockers

Wikia is not accessible if you've made further modifications. Remove the custom ad blocker rule(s) and the page will load as expected.