Bob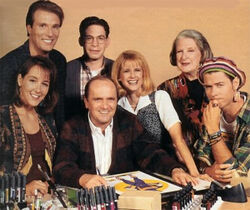 Star(s)
Bob Newhart, Carelene Watkins, Cynthia Stevenson, John Cygan, Michael Cumpsty
Bob was an American sitcom created by Bob Newhart for CBS. It ran for two seasons.
Series summary
Edit
Back in the 1950s, Bob McKay (Bob Newhart) created Mad-Dog, a popular superhero character, but after a Senate sub-committee had the comic shut down, he faded into obscurity. Years later, mega-global corporation AmCanTranConComCo buys up the rights to Mad-Dog and tries to bring it back as a gritty and violent character. The series follows McKay's trials and tribulations as his career is revived in a most unusual fashion.
Westphall connections to The Bob Newhart Show
Edit
The Bob Newhart Show character of Jerry Robinson (Peter Bonerz) appeared in the season finale of Bob.
Ad blocker interference detected!
Wikia is a free-to-use site that makes money from advertising. We have a modified experience for viewers using ad blockers

Wikia is not accessible if you've made further modifications. Remove the custom ad blocker rule(s) and the page will load as expected.