Beverley Hills Buntz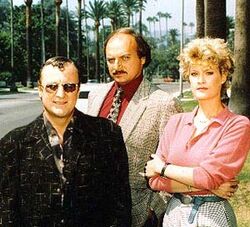 Star(s)
Dennis Franz, Peter Jurasik, Dana Wheeler-Nicholson
Creator(s)
David Milch, Jeffrey Lewis
Genre(s)
Police procedural
Beverley Hills Buntz was an American detective drama/sitcom created by David Milch and Jeffrey Lewis for NBC as a spin-off of Hill Street Blues, which was cancelled the same year Buntz started. It ran for one season.
Series summary
Edit
Dismissed from the police force depicted in Hill Street Blues, morally questionable detective Lt Buntz (Dennis Franz) travels to California, where he opens up a private detective agency alongside Sid 'The Snitch' Thurston (Peter Jurasik).
Parent show
Edit
Beverley Hills Buntz was spun out of Hill Street Blues. One episode featured a guest appearance by George Wyner, who played his Hill Street Blues character Irwin Bernstein.
Ad blocker interference detected!
Wikia is a free-to-use site that makes money from advertising. We have a modified experience for viewers using ad blockers

Wikia is not accessible if you've made further modifications. Remove the custom ad blocker rule(s) and the page will load as expected.